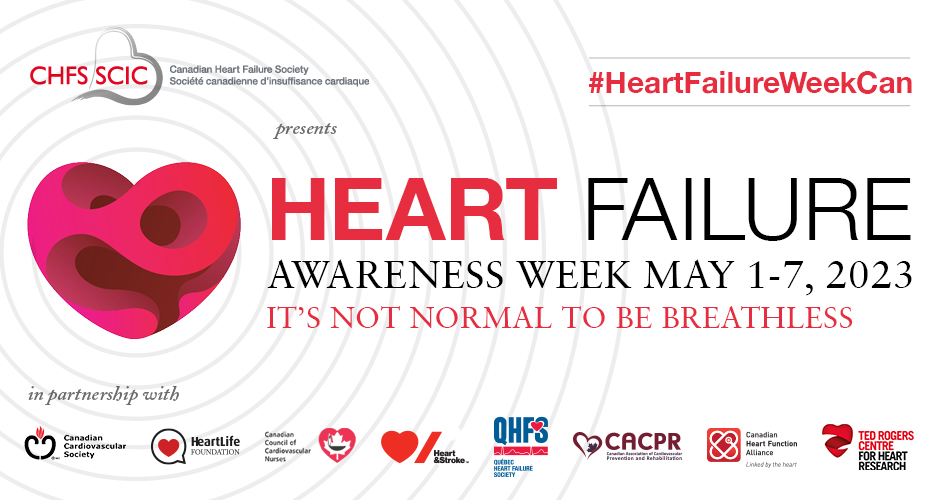 The Canadian Heart Failure Society (CHFS), together with a committee of cardiovascular professionals and partner organizations, is pleased to announce:
5th Annual
National Heart Failure Awareness Week
May 1-7, 2023 
Heart failure (HF) awareness continues to rise across Canada and throughout the world as more and more people are living with HF. 
The goal of Heart Failure Awareness Week is to raise awareness, increase public knowledge and provide a better understanding of this chronic condition. 
In addition to engaging health care providers in raising awareness among patients and their families, this year's campaign will target the general public with the message: It's Not Normal to be Breathless. We encourage people to see their health care provider if they suspect they have HF symptoms. 
Partners
National Heart Failure Awareness Week has built-in sustainability through its partnerships with the following organizations:
Canadian Cardiovascular Society (CCS)
Canadian Council of Cardiovascular Nurses (CCCN)
Canadian Association of Cardiovascular Prevention and Rehabilitation (CACPR)
Canadian Heart Function (CHF) Alliance
Heart & Stroke 
HeartLife Foundation
Société Québécoise d'Insuffisance Cardiaque (SQIC)
Ted Rogers Centre for Heart Research
Tools
We are currently updating our tools for 2023. Please check back soon! In the meantime, feel free to download any of our 2022 materials.
Where to find Heart Failure Resources
Patient Education and Support Resources

www.heartfailure.ca
www.heartlife.ca
www.heartandstroke.ca/heart/conditions/heart-failure
Professional Education Resources

www.heartfailure.ca
www.sqic.org
www.ccs.ca
www.phri.ca/collaborations/chf-alliance/
Social Media
Follow us @CanHFSociety on Twitter and #HeartFailureWeekCan. 
Special Thanks
This event is made possible through the support from Abbott, AstraZeneca, Bayer Inc., Boehringer Ingelheim-Lilly, Novartis, Pfizer Canada and Servier.